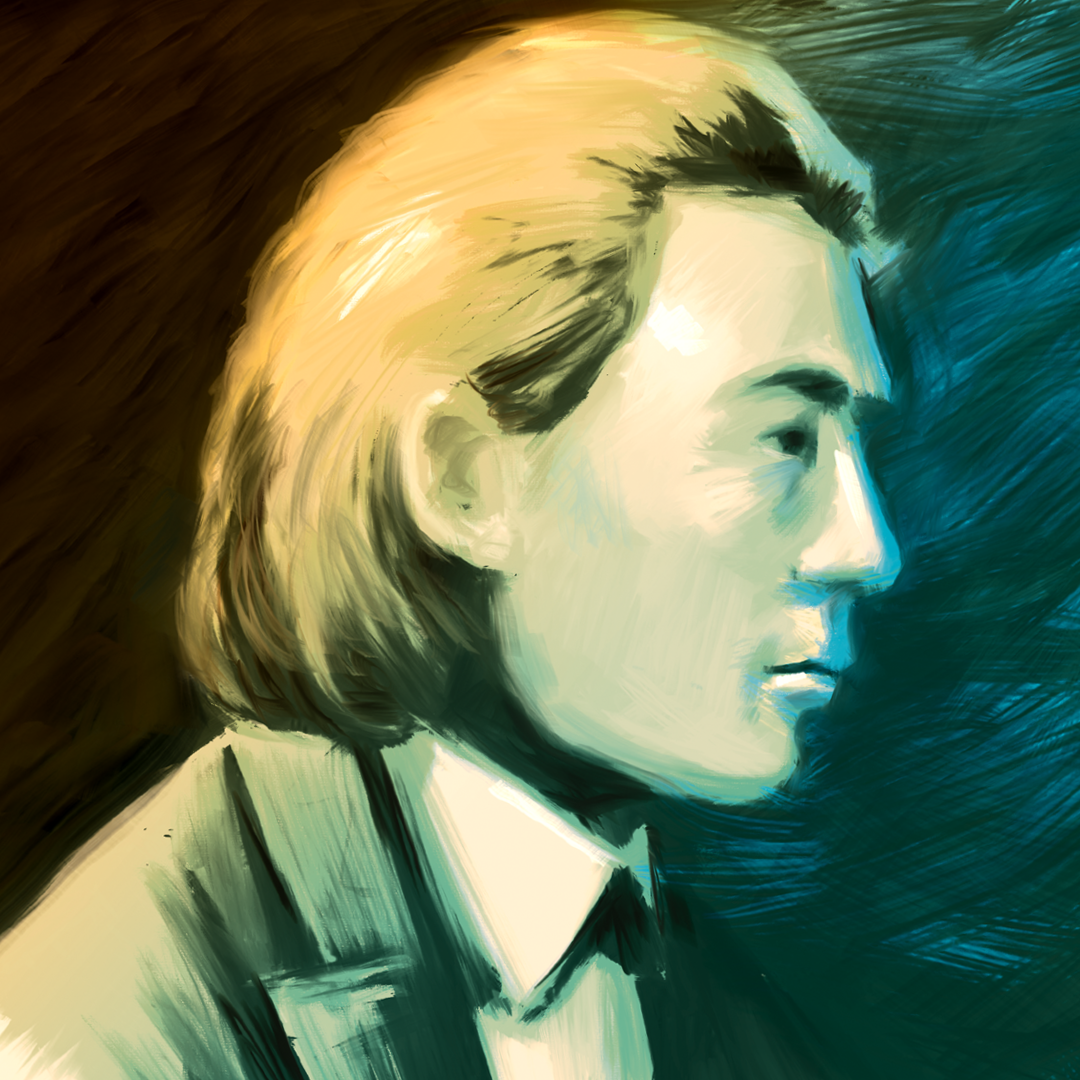 Track list
Pianist and composer, born in Puławy, died in Meran (now Merano in Italy). He was born into a family with rich musical traditions. His grandfather Alojzy (died in 1824) was a professor of piano at the Instytut Muzyki i Deklamacji (Institute of Music and Recitation) in Warsaw and composed numerous polonaises. His father Edward (1812 – 1874), a student of Józef Elsner at the Szkoła Główna Muzyki (Principal School of Music) and a schoolmate of Fryderyk Chopin, worked as a teacher of music at the Instytut Aleksandryjski Wychowania Panien (a school for young girls) in Warsaw and then in Puławy, and after that taught piano at the Instytut Muzyki (Institute of Music) in Warsaw. His mother Marianna née Turowska was a singer who had studied at Karol Kurpiński's singing school affiliated to the Warsaw Opera.
His first teacher of music was his father. Since 1862, he studied at the Institute of Music in Warsaw; his teachers of harmony and counterpoint included August Freyer and Stanisław Moniuszko. He completed his education at the Institute five years later with a grand prize in piano and a first prize in counterpoint.
He made his debut as a pianist and composer on 17 July 1867 at the Resursa Obywatelska in a concert dedicated to the school's awarded students. He played one of Chopin's etudes and his own Mazurka in B minor. He was planning to continue his studies of piano and composition in Berlin, but he needed financial resources to cover the trip and the accommodation away from home. With that in mind, he organised three concerts with his own compositions in the rooms of the Hoffer piano factory and the Resursa Obywatelska: on 22 March and 11 December 1868 and on 14 May 1869, in which he appeared in a triple role of a composer, a conductor and a pianist. The programmes featured his fourteen works in total – orchestral (Concert Overture and Grand March 'Hommage à Mendelssohn'), chamber (Sextuor in E minor, Scène dramatique for cello and string quintet and Trio for piano, violin and cello), piano (etudes) and vocal (Śpiew for tenor and orchestra, a setting of a poem by Victor Hugo and Ave Maria for contralto and string quintet). They were juxtaposed with compositions by Fryderyk Chopin, Ferenc Liszt, Giacomo Meyerbeer, Karol Kurpiński and Zygmunt Noskowski. The concerts met with rapturous acclaim from audiences and critics (such as Adam Münchheimer and Jan Kleczyński) alike.
In June 1869, Stolpe left for Berlin, where he received private lessons of composition from Friedrich Kiel and studied piano with Theodor Kullak at the Neue Akademie der Tonkunst. Kullak was so impressed with the Polish composer's skills that after six months he suggested that he teach his own class of piano.
Unfortunately, the artist's brilliantly developing career was cut short by his illness. He caught a cold while leaving an evening concert with music by Richard Wagner. The illness deteriorated into pneumonia, which in turn evolved into tuberculosis. He continued treatment after returning to Warsaw and sought help in well-known spas – Salzbrunn (currently Szczawno-Zdrój) and Merano in Italy. He died prematurely at the age of 21. Zygmunt Noskowski wrote a lengthy eulogy in memory of the late artist, published in Tygodnik Ilustrowany (1872 No 249).
Antoni Stolpe was regarded as one of the most talented composers and pianists that had appeared in Poland since the times of Fryderyk Chopin. He was already praised during his own lifetime (by Jan Kleczyński or W. Górski) and after his death up until the turn of the twentieth century (by Władysław Żeleński, Zygmunt Noskowski and others). Despite his short life, he managed to compose a few dozen works, varied in size and scoring (the earliest extant compositions are his school works, e.g. O salutaris Hostia for mixed choir, string quintet and organ [1866], dedicated to the Institute of Music in Warsaw). Unfortunately though, only one composition appeared in print in the nineteenth century – his Piano Sonata in D minor, one of his last works, written shortly after graduating from the school in Berlin. After Stolpe's death, the sonata was successfully performed in Warsaw, in 1875, by Józef Wieniawski, who was also behind its publication, by the Warszawskie Towarzystwo Muzyczne (Warsaw Musical Society), in the following year. In modern times, the work has been published in 1957 by the Polskie Wydawnictwo Muzyczne (Polish Music Publishing House) in an edition prepared by Maria Wiłkomirska (with a foreword by Teresa Chylińska).
The other works composed by Antoni Stolpe, around sixty in total, lay in complete oblivion up until the end of the twentieth century. In recent years, however, the memory of the composer and his works has been revived by Prof. Andrzej Wróbel, the ensemble Camerata Vistula and the foundation Pro Musica Camerata affiliated to the Warszawska Opera Kameralna (Warsaw Chamber Opera). His compositions have been included in the successive editions of the Polish Chamber Music Festival in Warsaw. In 2011, Stolpe's works featured in the "New Interpretations" programme announced by the Institute of Music and Dance. One of the effects of this initiative has been the first edition of the Antoni Stolpe Music Festival (Festiwal Muzyki Antoniego Stolpe), which was held in Kalisz from 10 to 13 November 2011.
The composer's extant works have been recorded by the Pro Musica Camerata foundation in a three-part series called Antoni Stolpe Opera omnia. The first CD featured four compositions: Sextuor in E minor, Variations for string quartet, Scène dramatique and Romance (duettino) and the second was a double-disc album containing chamber works (Sonata in D minor, Sonata in A minor, Variations in D minor and a few shorter pieces). The third volume is coming up soon. The foundation has also published sheet music with some of his works.
Source: www.culture.pl, Anna Iwanicka-Nijakowska, November 2011.
Fugue for [string?] quartet, before 1869

String quintet in D major for 2 violins, 2 violas and cello, 1868

Lied... For horn and orchestra or piano, after 1869

Polonaise in A flat major for piano and string quintet, 1866

Buy

Romance. Duettino na skrzypce, wiolonczelę i fortepian, 1866

Buy

Scène dramatique for cello and string quintet, 1867

Borrow

Sextuor in E minor for piano, 2 violins, viola, cello and double bass, 1867

Borrow

Sonata in D minor for piano four-hands and string quintet, before 1868

Sonata for violin and piano, 1872

work lost

Piano trio, before 1869

Variations for string quartet in G major, after 1869

Borrow

3 Songs in form of an etude, 1868 or before

Allegretto No.1 in A major, before 1868

Buy

Allegretto No.2 in A flat major, before 1868

Buy

Allegro appassionato in C minor, 1869

manuscript

Download

Andante in A flat major, before 1869

Buy

Caprice-étude de concert

work lost

Chant sans parloes

work lost

Etude, 1869

Fantaisie-étude

work lost

Fugue in C major, ca. 1866

Impromptu-étude

work lost

Mazurka in G major, ca. 1866

Mazurka in D major

manuscript

Download

Mazurka in B minor No. 1, before 1867

Download

Mazurka in B minor No. 2

Mazurka in B minor No. 4, ca. 1867

Menuetto (Scherzo in C major)

manuscript; Scherzo in C major, first title Menuetto in C major (crossed out and renamed to Scherzo in C major)

Download

Nocturne

work lost

Polka

work lost

Prelude and fugue in C major, 1866-67

Sonate in D minor

Download

Sonate in D minor

Buy

Variations in D minor, manuscript

Download