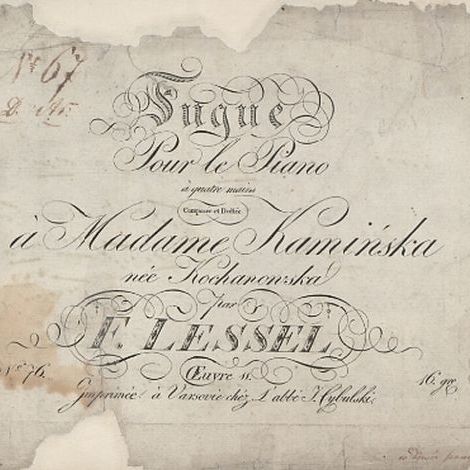 Track list
Composer and pianist, born in Warsaw, died in Piotrków Trybunalski. Having taken his first lessons of music with his father, Wincenty Ferdynand Lessel, composer, pianist and pedagogue of Czech descent, Lessel left for Vienna in late 1799 to study composition under Joseph Haydn, and remained a student of Haydn's until Haydn's death in 1809.
It was before leaving for Vienna that Lessel started giving concerts, first in a chamber string ensemble in Lvov (with, among others, Karol Kurpiński and Karol Lipiński at Count's Łączyński), then also as a pianist. While a student in Vienna, he would come to Poland a number of times, working as a court musician at the Lubomirskis in Lancut. Upon his return to Poland in 1809, he started giving piano concerts of his own works, appearing, among other places, in Cracow and at the Warsaw National Theatre. He also played on the glass harmonica, an instrument which was hugely popular at the time, gave music lessons and, for a while, was director of the Warsaw Amateur Music Society.
For the rest of his life he did jobs which were not related to music; he did not give up composing, however. In 1812 he became an estate administrator in Gzików near Kalisz, from 1823 was the plenipotentiary of Maria Wirtemberska's property in Pilica, and in the 1830s managed the Poplawskis' estate in Pecice. In 1836 he took the position of administrator at the Marymont Institute of Farming, and the following year was appointed inspector of the regional Gymnasium in Piotrków Trybunalski, a tenure he was to hold until his death.
Source: www.culture.pl, Małgorzata Kosińska, Polish Music Information Center, October 2006.
Adagio et rondeau a la polonaise for violin and piano, Op. 9, 1807

first version is for piano and orchestra

Adagio and fugue D minor for piano for four hands, Op. 11, 1812 or earlier

Download

Concert duo [No. 1] for 2 flutes, Op. 1, 1802 or earlier

Borrow

Concert duo [No. 2] for 2 flutes, Op. 1, 1802 or earlier

Borrow

Concert duo [No. 3] for 2 flutes, Op. 1, 1802 or earlier

Borrow

Duo for 2 clarinets

Duo pour deux flûtes et Variations sur un thème de l'opéra "Faniska" de Cherubini, Op. 7, 1805 or earlier

Buy

Faintaisie caractéristique for piano, violin, viola and cello, Op. 31, 1822

Fantasy for string quartet

Buy

Grand trio for piano, clarinet and horn, Op. 4, 1806 or earlier

Buy

Quartet for flute, violin, viola and cello, Op. 3, 1806 or earlier

Buy

String quartet in A major, 1800

only in fragments

String quartet in B flat major, Op. 19, 1824

manuscript

Download

String quartet in D major

only viola part left

Piano quintet F minor

work lost

Partita [No.1] for 2 clarinets, 2 horns and 2 bassoons

Borrow

Partita [No. 2] for 2 clarinets, 2 horns and 2 bassoons

Buy

Partita [No. 3] for 2 clarinets, 2 horns and 2 bassoons

Borrow

Trio for 2 clarinet and bassoon

Trio in E major for piano, violin and cello, Op. 5

Download

Variations for flute and piano

first version is for flute and orchestra