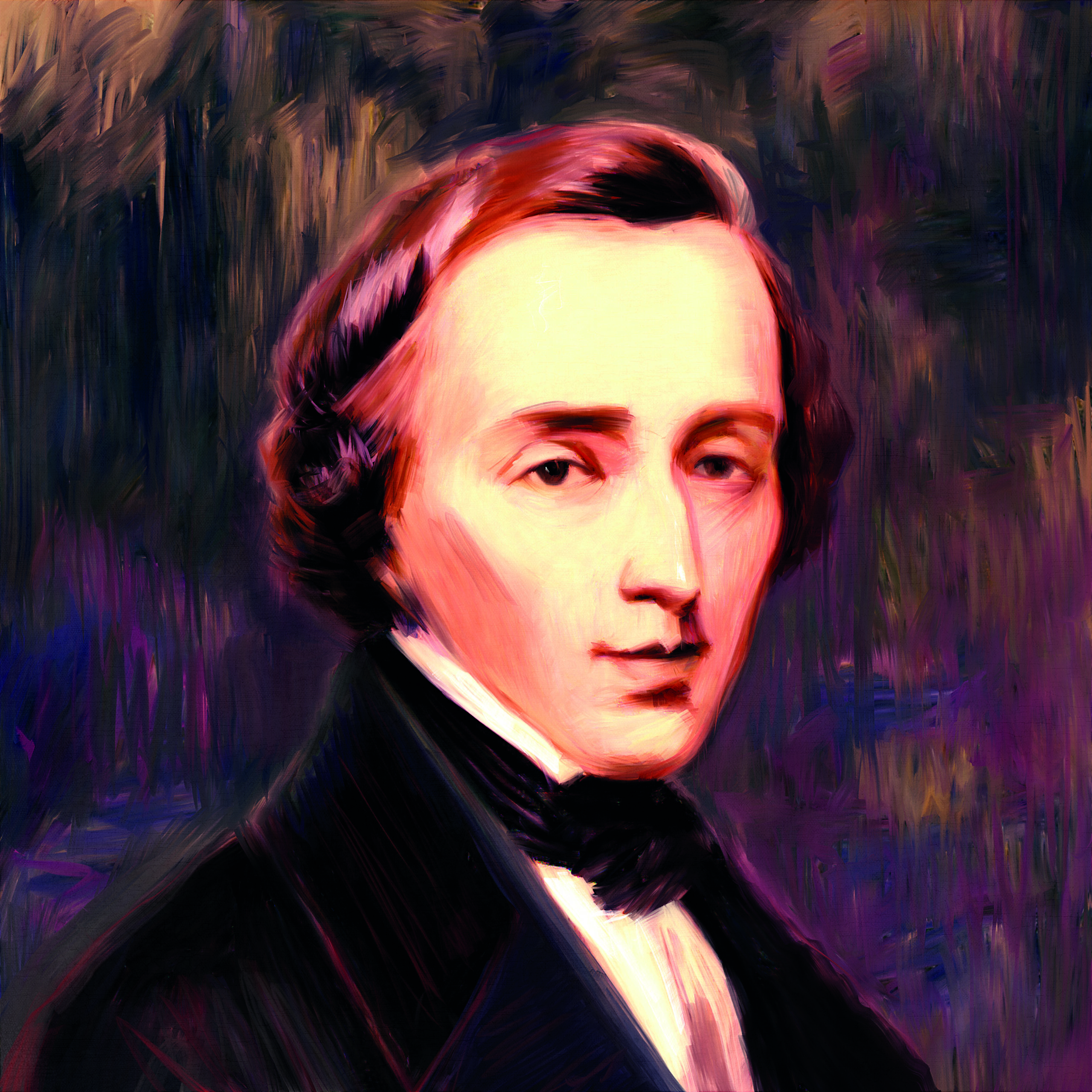 Track list
Composer and pianist, born in Żelazowa Wola near Sochaczew, died in Paris. Although he claimed he was born on 1 March, his baptism certificate shows 22 February. His father Mikołaj Chopin originally came from France and met his wife Tekla Justyna Krzyżanowska in the mansion of the Counts Skarbek, where she was working as a household administrator.
A few months after Fryderyk's birth, the whole family moved to Warsaw. He studied piano with Wojciech Żywny and probably Wilhelm Wacław Würfel (piano and organ). Subsequently, in 1826, he became a student of the faculty of music theory, figured bass and composition at the Szkoła Główna Muzyki (Principal School of Music) in Warsaw under Józef Elsner.
Upon graduation in 1829, he was evaluated by Elsner as "Szopen Fryderyk – exceptional skills, musical genius". He furthered his musical experiences during his trips to Berlin, Vienna and other places. In the autumn of 1831, he left for Paris, where he made a conscious decision to apply for the status of an immigrant rather than renew his passport at the Russian embassy to comply with the Russian regulations enforced in occupied Poland. Legally, it meant that he could not return to his homeland.
While in Paris, Chopin found himself surrounded by a sizeable group of Polish expatriates (including artists) fleeing Russian persecutions in the occupied country, e.g. Adam Mickiewicz, Juliusz Słowacki, Stefan Witwicki and Julian Ursyn Niemcewicz. He also befriended young musicians, such as Franz Liszt, Hector Berlioz, Ferdinand Hiller and Auguste Franchomme.
Chopin died of pulmonary tuberculosis in his Parisian apartment at Place Vendôme. He was buried at Père Lachaise Cemetery in Paris, yet in accordance with the wish expressed in his last will, his sister transported his heart to Warsaw, where it rests at the Church of the Holy Cross at Krakowskie Przedmieście.
Chopin was a precocious child. He composed two polonaises (in G minor and in B flat major), when he was only 7 years of age. He was often compared to Wolfgang Amadeus Mozart. In Warsaw newspapers, he was referred to as "mały Chopinek" (little boy Chopin). His career as a pianist was equally astounding: as a young boy, he performed in the salons of Warsaw aristocratic circles and only slightly later in such musical centres as Vienna, Munich, Stuttgart, Paris and London. However, he rarely, and grudgingly, played in front of large audiences. His favourite type of venue was a private circle of friends and acquaintances, among whom he could show off all his excellent technical and expressive skills with ease and pleasure. He also worked as a teacher; in fact, teaching became his primary source of income while in Paris. He was extremely popular with his students, who usually came from Polish and French aristocratic families.
The composer's legacy is almost exclusively devoted to the piano. The vast majority of his works are intended for solo piano. These works include mazurkas, polonaises, waltzes, nocturnes, ballads, scherzos, sonatas, rondos, variations, preludes, etudes, impromptus and other miniatures, including dances. The remaining portion of his oeuvre is composed of chamber and orchestral pieces featuring the piano, including songs, the Trio in G minor for piano, violin and cello, the Sonata in G minor for piano and cello, the Piano Concerto in F minor and the Piano Concerto in E minor.
Chopin's musical language was based on the virtuoso style brillant, which he transformed into a uniquely soulful and deeply emotional mode of expression. In his works, the sheer virtuosity of the style did not longer play the dominant role. Stylistically, his music is characterised by immensely rich melodic invention, subtle lyricism, refined ornamentation and highly developed harmony. The artist greatly loosened the classical tonal principles by employing bold modulations, unconventionally linked chords and authentic folk scales. Having profoundly penetrated the capabilities of the piano, he lay the foundations for all the subsequent music written for this instrument. The nationality of music was also a significant factor for him. His mazurkas and polonaises became model examples of how to employ a national style; they were avidly copied by Polish and foreign composers. Furthermore, his use of starkly contrasted and variegated emotional colours broadened the horizons of musical expression in a profound and spectacular way.
Source: Smoleńska-Zielińska Barbara, Biografia Fryderyka Chopina, http://chopin.pl/biografia_chopina.pl.html (access: 8 October 2018) and Smoleńska-Zielińska Barbara, O muzyce Fryderyka Chopina. Zarys monograficzny, http://chopin.pl/biografia_tworczosci.pl.html (access: 8 October 2018), selected and edited by Antoni Szymański.