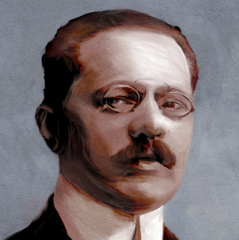 Track list
Composer, pianist, teacher and conductor, born in Marcelin, died in Warsaw. He received his first lessons of music from his grandmother Józefa née Klemczyńska and his father Karol, a violinist, conductor, teacher and composer. He made his public debut at the age of 8. Between 1879 and 1887, he studied at the Męskie Gimnazjum Klasyczne (Men's Classical Gymnasium) in Kalisz, which he completed with a gold medal. In 1887, he enrolled at the University of Warsaw (mathematics) and in 1888 at the Institute of Music (Instytut Muzyczny) in Warsaw (where he studied piano with Rudolf Strobl and composition with Zygmunt Noskowski). Since 1889 until 1892, Melcer-Szczawiński performed throughout Poland as a soloist and an accompanist. In 1890, he made a tour of Russia with American singer Louisa Nikita Nicholson. In 1891, he left on a foreign scholarship for Vienna and, until 1895, continued his studies with Teodor Leszetycki.
In 1895, at the Anton Rubinstein Composition and Piano Competition in Berlin, he won the only prize of the composition part of the competition for his Piano Concerto No 1 in E minor, Piano Trio in G minor and two out of his Trois morceaux caractéristiques in B flat major, and the Third Prize at its piano part. From 1895 to 1896, he was a professor of piano at the conservatory of music in Helsinki. Simultaneously, he was giving concerts in Warsaw, Lwów and Berlin, and made another tour of Russia. In 1897, he took up the class of piano at the conservatory in Lwów (present-day Lviv in the Republic of Ukraine). In 1898, he won the First Prize at the Ignacy Jan Paderewski Composition Competition in Leipzig for his Piano Concerto No 2 (a joint winner with the Violin Concerto in D minor op. 11 by Emil Młynarski). In the same year, after the death of Rudolf Schwartz, he made a successful bid to direct the Galicyjskie Towarzystwo Muzyczne (Galician Musical Society), but eventually relinquished the post and left Lwów for Vienna.
Between 1899 and 1902, Melcer-Szczawiński directed the Łódź Musical Society (Łódzkie Towarzystwo Muzyczne) and actively contributed to the city's concert life. In 1900 and 1901, the artist performed in Poland (Warsaw, Kraków and Łódź) and abroad (Berlin, Leipzig, Dresden, Vienna and Budapest). On 4 July 1902, at his own request (he wanted to emphasise his Polishness), he was adopted by his wife's aunt Jakubina Grzybowska née Szczawińska. He returned to Lwów in 1902 to work as a teacher and director of Helena Ottawowa's school of music and as the second conductor of the newly founded Lwów Philharmonics. In 1903, he was appointed as professor of piano at the Konservatorium der Gesellschaft der Musikfreunde in Vienna. In 1904, in Warsaw, he won the Second Prize at a competition to compose an opera with a libretto based on Maria, an epic poem by Antoni Malczewski.
In the autumn of 1907, Henryk Melcer-Szczawiński's family resettled in their native country to become residents of Warsaw. In the following year, he was appointed an artistic director of the Warsaw Philharmonics for one season, after which he remained in charge of evening concerts of chamber and oratorio music. He did not neglect his own skills as a composer, though. He constantly perfected his technique and widened his repertoire, which also included contemporary composers. He also performed in Poland and abroad as a soloist and a chamber player.
Since October 1915 until March 1916, the artist was employed as an artistic manager and conductor of the Warsaw Opera (Opera Warszawska), but he resigned from the post amidst a conflict with the other employees (he did not agree to stage German operas during the occupation of Warsaw by German soldiers). He did not give up his concert activities, though, and even expanded his musical performances with accompanying commentaries and anecdotes. Such a concept, presented in Warsaw and Łódź (where he played and commented on the formal layout of, the complete sonata cycle by Ludwig van Beethoven) gained him enormous popularity amongst the audiences.
In 1917, Henryk Melcer-Szczawiński initiated and headed the Polski Klub Artystyczny (Polish Art Club), which served as a forum of virtually all forms of art. The organisation's activities included chamber music soirees, which featured both early and contemporary music, exhibitions and lectures presented by painters and sculptors, as well as recitations and presentations given by men of letters. In the autumn of the same year, he became a teacher of piano at the Liceum Muzyczne (Secondary School of Music) in Łódź founded by Helena Kijeńska-Dobkiewiczówna. He was also offered the post of professor of piano at the Warsaw Conservatory of Music, of which he eventually became a director in January 1922 (following the departure of Emil Młynarski). During his tenure, he introduced new curricula, founded a choir and a school orchestra, reinvigorated concert activities and promoted opera classes.
In December 1926, he relinquished his directorial duties in protest against the planned visitation from the Ministry of Denominations and Public Enlightenment, which he considered as a violation of the institution's autonomy. He still worked as the school's professor of piano, however. In 1927, he was chosen as a juror of the First International Chopin Piano Competition in Warsaw. However, his engagements as a performer and conductor were becoming less and less frequent due to his bad heart. He died suddenly during one of his classes at the Warsaw Conservatory.
Source: www.culture.pl, Małgorzata Kosińska, Polish Music Information Center, Polish Composers' Union, December 2006.