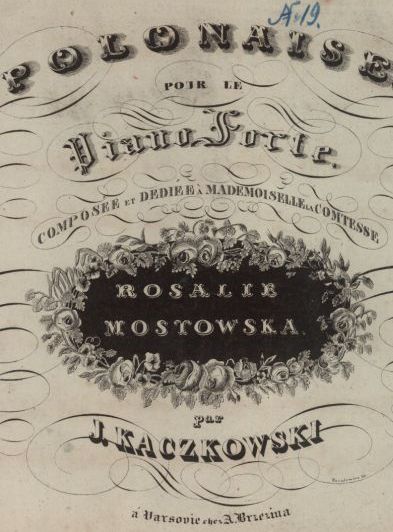 Track list
Violinist, composer and teacher, born in Tábor (now in Czech Republic), died in Warsaw. He grew up in a family with rich musical traditions. It is not known where and with whom he studied; it can be deduced from press accounts that he was self-educated. He spent his youth in Lwów (now Lviv in Ukraine), where he met Karol Kurpiński and Józef Elsner. He subsequently left for Germany, where he was renowned as a violin virtuoso and a composer of chamber music, which was published in Germany and in Austria.
He furthered his career of a virtuoso giving concerts both in front of large audiences (also at the National Theatre in Warsaw) and in landowners' mansions. He was also a teacher of music, e.g. in the household of Onufry Wieniawski (according to other sources: Onufry Sierakowski) in Sierakośce and next in the mansion of the Kraiński family in Hermanowice near Przemyśl. In the later years of his life, he moved to Warsaw, where he abandoned the concert career in favour of teaching and composing.
His violin playing received drastically opposing comments. The ideal to which he aspired was the classical virtuosity of the French-Italian school represented by such masters as Giovanni Battista Viotti, Pierre Rode and young Louis Spohr. His style was characterised by exquisite taste, tunefulness, mood painting, technical bravura and masterfully executed bowing technique.
Kaczkowski's oeuvre is dominated by chamber works, which have survived almost exclusively in the form of titles and reviews of their successive publications. The reviewers emphasised their virtuoso verve and educational qualities, but they criticised their technical shortcomings, especially with regard to unsatisfactory thematic work and poorly developed harmonies and rhythms. Kaczkowski's compositions abound with elements of variations (air varié), which, coupled with the architectural qualities of some of his chamber polonaises and concertos, suggest influences of Pierre Rode. It is highly emblematic that in his chamber works he favours the first violin part, whilst the remaining instruments are assigned with accompanying roles. The second largest group of his compositions includes piano miniatures, mainly polonaises. He also wrote pieces for violin, solo and with orchestra.
Source: Chmara-Żaczkiewicz Barbara, Kaczkowski Joachim, in: Encyklopedia muzyczna PWM, Dziębowska Elżbieta (ed.), vol. 5, Polskie Wydawnictwo Muzyczne, Kraków 1997, pp. 3-4, selected and edited by Antoni Szymański.