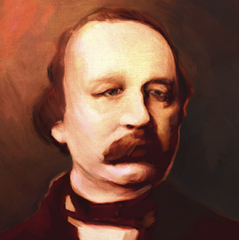 Track list
Composer and pianist, born in Koryciska near Radom, died in Warsaw. He received first lessons of music from his godfather, a chapel master in a Cistercian abbey, and later played the horn in the parishchurch ensemble in Radom and in the cathedral ensemble in Sandomierz. His completed his formal music education at the conservatory of music in Warsaw with Józef Elsner (composition), Václav Vilém Würfel (piano) and M. Winen (clarinet).
He excelled during his conservatory studies: he was praised by his teachers for his learning efforts and his performances in concerts organised by the school. The studies also gave him an opportunity to meet Chopin –  they remained close friends for many subsequent years. Historically, their friendship resulted in the fact that Nowakowski was the first performer of Chopin's Berceuse in D flat major. In his mature artistic life, Nowakowski made repeated tours of Germany and France, where he successfully presented himself as a composer and a pianist; one of the accolades he was given was membership of the Société Académique des Enfants d'Apollon.
Nowakowski was also active as a teacher. He startedt eaching piano as a teenage boy, when he gavelessons to staroste (district governor) Józef Karczewski in Ciepielów near Zwoleń. In hislater life, he taught piano at the Alexander Institute in Warsaw and, from 1861, held the position of professorat the Institute of Music in Warsaw. During his mature teaching career, he was considered one of the most eminent teachers working in Warsaw. He was also involved in designing the Warsaw Conservatory, worked for the publishing house G. Gebethner i Spółka, collaborated with the music magazine Ruch Muzyczny and became an honorary member of the Musical Society in Lwów (now Lviv in Ukraine).
Nowakowski's creative output comprises both grand symphonic forms and short small-scale pieces. His orchestral works include symphonies, overtures, concertos and variations. His chamber music is represented by piano quintets and trios, string quartets and duets. He wrote a large body of solo piano works (about 200), such as polonaises, mazurkas, waltzes, contredanses, nocturnes, marches, rondos, variations and etudes. Nowakowski also wrote solo and choral songs, orchestral transcriptions of works by other composers and a piano handbook, Szkoła na fortepian według cenniejszych autorów z dodaniem ćwiczeń własnego układu.
The composer's works are written in the early Romantic musical language, very popular amongst the Warsaw circles of the day. He freely employs folk tunes and national melodies, has a predilection for the style brillant and strives to consolidate his works in their formal layout. A number of his compositions were clearly intended for a salon performance (they do not pose a lot of technical hurdles), but he also wrote brilliantly virtuosic pieces.
Source: Negrey Maciej, Nowakowski Józef, in: Encyklopedia muzyczna PWM, Dziębowska Elżbieta (ed.), vol. 7, Polskie Wydawnictwo Muzyczne, Kraków 2002, pp. 115-116, selected and edited by Antoni Szymański.