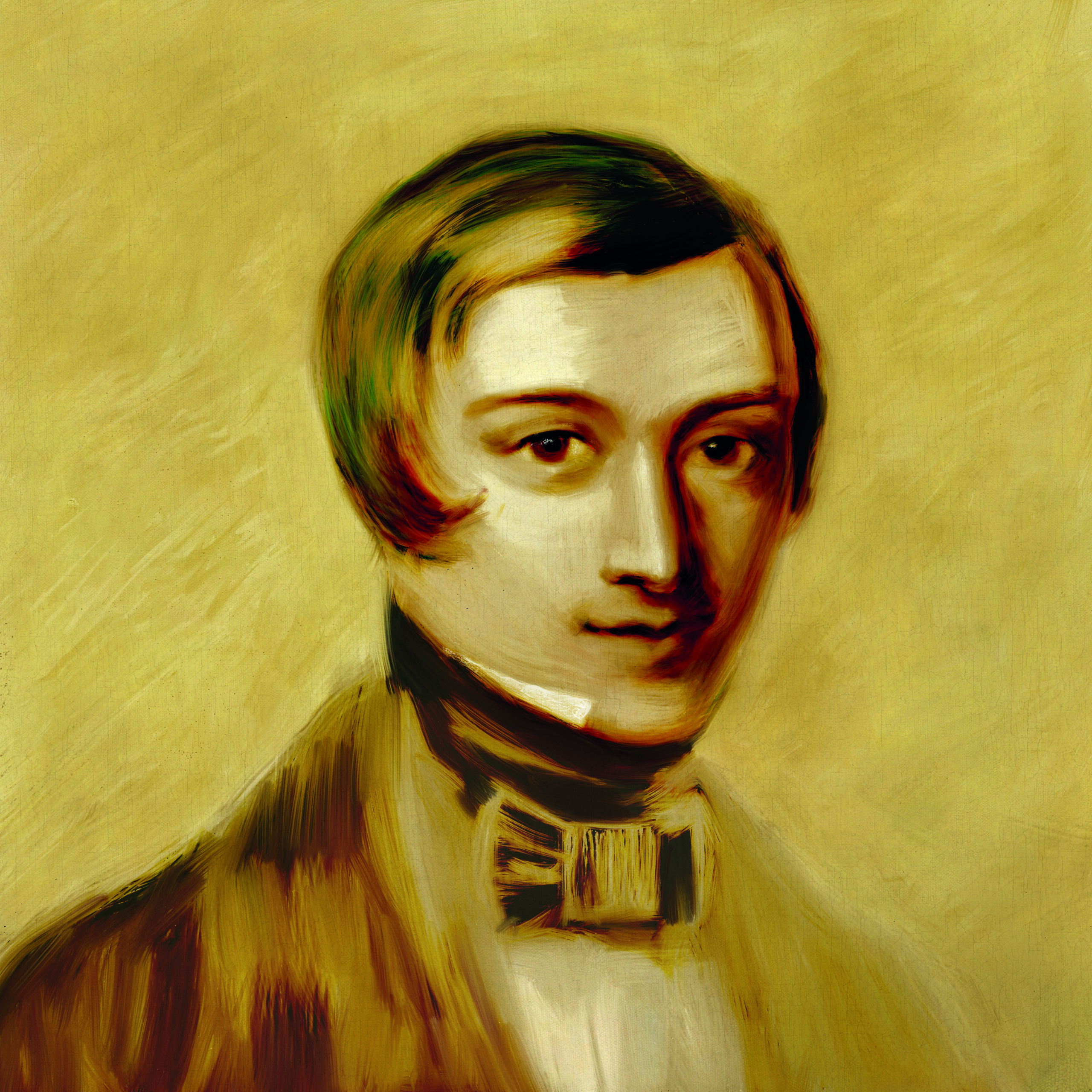 Track list
Pianist, composer, choirmaster and teacher, born in Tarnów, died in Warsaw. He was born into a family with musical traditions; his father Michał was a composer and a teacher of music. He was educated at the Szkoła Główna Muzyki (Principal School of Music) in Warsaw under Karol Kurpiński and Józef Elsner.
His piano career started early, when he was only 10 years old performing as a child prodigy. He mostly appeared throughout Poland, in such cities as Warsaw (e.g. at the National Theatre), Kalisz, Poznań, Wrocław, Kraków, Radom, Legnica, Lublin and Zamość, but also abroad, e.g. in Berlin, Dresden, Moritzburg and Leipzig. He gradually and consistently raised the quality of his playing technique (both depth of expression and technical agility) during his concert tours. In later years, however, his piano career waned due to his deteriorating health and personal issues. As a consequence, he rarely ventured outside the city of Warsaw.
The reviewers usually praised his impressive technical skills, musical memory, improvisation and score reading speed. However, because Krogulski's performances met with cool reception from Chopin, it may be suspected that his interpretational abilities did not match his brilliant technique.
He was active as a teacher of piano since the age of 16 until his death. Moreover, he was responsible for the training and performance of choral ensembles: he founded a choir of the female graduates of the St. Casimir Institute of Tamka street and, in collaboration with his father, an amateur mixed choir at the Trinitarian Church in Solec. He performed extensively with both ensembles and took great care to ensure their high artistic level, e.g. by working with such renowned artists as Wilhelm Troszel, Jan Nepomucen Szczurowski and Ignacy Komorowski. The choirs also inspired the composer to write a vast majority of his choral works, which were performed alongside compositions by Józef Elsner, Joseph Haydn, Karol Kurpiński, Étienne Méhul, Luigi Cherubini etc.
Krogulski composed large- and small-scale works intended for vocal, instrumental or mixed line-ups. Most of them were written for voices and instruments: they include such genres as cantata, mass, oratorio, hymn etc. He also composed a large body of works for solo piano, primarily miniatures and dances, including mazurkas, polonaises, sonatas, variations and fantasias. His oeuvre is complemented by orchestral, chamber and theatre works, albeit not very numerous. In his vocal works, for choir and for voice with piano accompaniment, he set texts by Franciszek Karpiński, Franciszek Ksawery Kurowski, Adam Mickiewicz etc.
The composer's musical language was up to date with contemporary tendencies. He employed classical techniques with melodies almost exclusively built upon diatonic patterns, conventional harmonic plans, rich ornamentation and – in his piano compositions – a style brillant type of virtuosity. He often cited, or was inspired by, Polish patriotic songs and folk tunes. Krogulski is undoubtedly at his best in his Romantic lyrical songs and melodically inventive choral works featuring counterpoint and concertante technique. Their value also lies in the fact that they were sung to Polish texts.
Source: Chmara-Żaczkiewicz Barbara, Krogulski Józef, in: Encyklopedia muzyczna PWM, Dziębowska Elżbieta (ed.), vol. 5, Polskie Wydawnictwo Muzyczne, Kraków 1997, pp. 211-213, Krogulski Mariusz Lesław, Krogulska Justyna, Józef Władysław Krogulski (1815-1842). Rodzina-życie-twórczość, Tarnów 2015, selected and edited by Antoni Szymański.
Bataglia in F major for 2 pianos and 6 hands, 1831

Fantaisie et variations in E flat major for 2 pianos, Op. 8, ca. 1835

Fantaisie for piano and cello, ca. 1834

Sonata No.1 in E flat major for piano and string quartet, 1828/1829

Quartet in D major for piano, violin, viola and cello, Op. 2

Buy

Quartetto in G major for 2 violins, viola and cello

Angloise in C major, ca. 1823

Angloise in E flat major, ca. 1827

Download

Fantasy on folk themes, Op. 5, 1 from 2 Potpourris sur des airs polonais (F major)

Galop salomoński czyli Poczta 6-cio konna in A major, ca. 1835

Galopade in A major, ca. 1827

Download

March "National" No.1 in D major, 1830/ 1831

Download

March No. 2 in D major, 1830/ 1831

Download

Sonata No.2 in A minor, Op. 3, ca. 1830

La bella cracovienna in G minor, Op. 1, ca. 1829

Download

Mazurka à la Chopin in E minor

Borrow

Mazur ("genannt Landmann")

Borrow

Mazur in D major [II], ca. 1827

Download

Mazur in D major [I]

Download

Mazur in A minor, Op. 2

Mazurka in D major, ca. 1823

New Galopade, Op. 2

Polonaise militaire, ca. 1828

Download

Polonaise in D major [II], ca. 1831

Polonaise in D major [II], ca. 1831

Polonaise in E major, ca. 1828

Download

Great fantasy on original themes, Op. 4, 1 from 2 Potpourris sur des airs polonais (G minor)