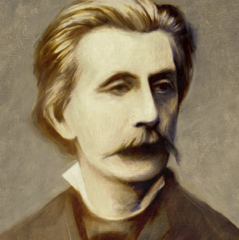 Track list
Composer, pianist and conductor, born in Wrocław, died in Paris. Moszkowski's family moved to Dresden in 1865 and he enrolled at the local Conservatory. Having moved to Berlin in 1869, he first studied piano under Eduard Frank and composition under Friedrich Kiel at the Stein Conservatory and then piano under Theodore Kullak at his Neue Akademie der Tonkunst. He started teaching at the Akademie at the age of seventeen, and in 1872 took a piano class which he was to run for the following twenty-five years.
Maurycy Moszkowski's career as a pianist began when he was nineteen, with a concert in Berlin in the presence of Franz Liszt. More concerts followed in Berlin, Vienna, Paris, London and Warsaw, the repertoire consisting chiefly of classical and romantic music and including a lot of Frederick Chopin as well as Moszkowski's own compositions. Warsaw first heard his symphonic poem Jeanne d'Arc op. 19 in July 1880.
In the second half of the 1880s his ailing health made him discontinue giving piano concerts and devote himself to composing and conducting. He promoted music by Ludwig van Beethoven, Richard Wagner and Spanish composers (he had a special affection for Spanish music) as well as his own works. In 1889 he conducted an introduction and ballet music for his opera Boabdil, der letzte Maurenkönig op. 49 in a Warsaw concert whose proceeds helped to construct the building of the Warsaw Music Society. In February 1890 he conducted his Violin concerto in C major op. 30 and Suite in G minor op. 39 for orchestra at the Warsaw Teatr Wielki, followed by a concert in Vienna on the occasion of the Universal Exhibition in 1892. In 1893 he was made (with the painter Julian Fałat) member of the Academy of Fine Arts in Berlin. He settled in Paris in 1897 and was made member of the French Academy of Fine Arts in 1899. He took part – with Edvard Grieg – in the ceremony of unveiling Richard Wagner's monument in London in 1903.
The progressing illness put an end to Moszkowski's career, and World War I made him broke as he had invested significant amounts of money into German, Polish and Russian bonds. A concert was held in New York's Carnegie Hall in 1921 with fifteen of the world's finest pianists performing to offer him emotional and material support.
Sources: www.culture.pl, Małgorzata Kosińska, Polish Music Information Center, October 2006.