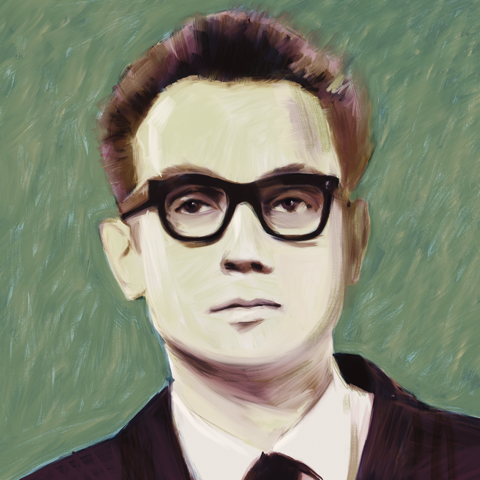 Track list
Composer and pianist, born in Lwów (now Lviv in Ukraine), died in Katowice. He studied piano playing and composition with Bolesław Woytowicz at the High School of Music in Katowice, graduating with the highest honours in 1955. In 1955-58 he was Woytowicz's assistant at the State High School of Music in Cracow. In 1957 he participated in the Summer Courses for New Music in Darmstadt. In 1959-60 he held a scholarship from the French government to study with Nadia Boulanger.
In 1977, he was a founding member of the Karol Szymanowski Society in Zakopane. For many years he was also the chairman of the Katowice branch of the Polish Composers' Union, serving as vice-chairman of the entire organisation in 1979-81. He also sat on the Repertoire Committee of the Warsaw Autumn Festival.
His numerous awards including the Lili Boulanger Foundation Award in Boston (1960), Polish Minister of Culture and the Arts Award (1967, 1975, 2003), Polish Composers' Union Award (1975), Katowice Voivodeship Prize (1971, 1976, 1980), City of Katowice Prize (1975, 1992), State Prize, 1st Degree (1980), Alfred Jurzykowski Foundation Award in New York (1984), Arts Award of the Solidarity Independent Culture Committee (1995), Lux et Silesia Prize from the Archbishop of Katowice (1995), Special Award from the Silesia Cultural Prize of the state of Lower Saxony (1996), Golden Staff from the Polish Culture Foundation (2000), Culture Foundation Grand Award (2001), Diamond Wreath (2003), Polish Ministry of Culture and the Arts Award for music (2003), Silesian Juliusz Ligoń Prize (2003), Golden Hyppolyte (2004), TV Polonia Prize "for promoting Poland and Polishness" (2003), Silesian Oscar (2005), Animus Silesiae Award from the Śląsk Song and Dance Ensemble (2006), Phoenix Award of the Order of Malta Poland for artists cultivating the Christian tradition (2008), Totus Award of the Polish Bishops' Conference's Foundation "Work of the New Millennium" (2009), Lech Kaczyński Honorary Award (2011), Golden Fryderyk for lifetime achievement (2012), Golden Polish Muse of the Polish Music Association (2012), and Polish Music Coryphaeus Honorary Award (2012).
From 1998, he was an honorary citizen of the City of Rzeszów, followed by Katowice and Wodzisław Śląski in 2006. He was granted honorary doctorates from the Opole University (1998) and Silesian University in Katowice (2012).
He also received numerous awards for his lm music, including for Andrzej Wajda's The Promised Land at the Polish Film Festival in Gdańsk (1975), the Prix Louis Delluc for Paul Grimault's animated movie Le Roi et l'oiseau (1980), at the International Film Festival in Cork for Krzysztof Zanussi's Da un paese lontano: Papa Giovanni Paolo II (1981), ASCAP Award 1992 and Best Score Composer for a 1992 Horror Film for Francis Ford Coppola's Bram Stoker's Dracula, Philip Award for lifetime achievement at the 3rd TP S.A. Music & Film Festival (2001), and Polish Film Academy's Eagle for Krzysztof Zanussi's Persona non grata (2006).
In 1991, he also received the State Cinema Committee Award, followed by the Tarnów Film Award for lifetime achievement and contribution to Polish film in 2010.
Wojciech Kilar held the Knight's Cross (1976) and Commander's Cross with Star (2002) of the Order of Polonia Restituta, as well as the Order of the White Eagle, awarded by President Bronisław Komorowski "in honour of the highest merits for Polish culture and outstanding achievements in artistic work" (2012). Two film were made about the composer: Krzysztof Zanussi's Wojciech Kilar (1991) and Violetta Rotter-Kozera and Zdzisław Sowiński's Wojciech Kilar. Credo (2013).
Source: www.polmic.pl Małgorzata Kosińska, updated: October 2015.