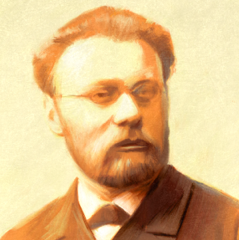 Track list
Composer, conductor, teacher and journalist, born in Warsaw, died in Warsaw. He initially studied with Jan Hornziel (violin) and later, between 1864 and 1867, at the Institute of Music (Instytut Muzyczny) in Warsaw with Apolinary Kątski (violin), Stanisław Moniuszko (harmony) and Francesco Ciaffei (singing). He continued his education on a scholarship from the Warsaw Musical Society with Friedrich Kiel (composition) and Richard Wüerst (instrumentation) in Berlin from 1872 to 1875. Before that, since 1867, Noskowski was a musician in the orchestra of the Teatr Wielki (Grand Theatre) in Warsaw, performed as a singer and a pianist, and taught at the Instytut dla Ociemniałych (Institute for the Deaf and Blind).
In 1870, he became a music correspondent for Kurier Warszawski (Warsaw Courier). He was also an active member of the Warsaw Musical Society. In November 1875, the Society organised a concert with his compositions. Zygmunt Noskowski directed the singing society Bodan in Konstanz between 1876 and 1880 and the Warsaw Musical Society between 1881 and 1902. He was also appointed as an opera conductor and second conductor at the Warsaw Philharmonics. Since 1886, he taught composition at the Institute of Music in Warsaw. Highly gifted as a teacher, he was responsible for the education of an entire generation of Polish composers during his 20 years career. His students included Henryk Melcer, Ludomir Michał Rogowski, Piotr Rytel, Apolinary Szeluto, Wacław Lachman, Stanisław Nawrot, Witold Frieman, Grzegorz Fitelberg, Mieczysław Karłowicz, Karol Szymanowski, Ludomir Różycki and many others.
Noskowski also worked as a music critic and he lectured and gave presentations on topics related to music. He was a keen observer of the latest achievements in the development of contemporary music and absorbed the novel tendencies of technique and style with aplomb. His vigorous temperament and lively disposition did not allow him to settle for just one musical form; rather he tried his hand at a wide variety of genres and styles. He could compose music with admirable ease. Concerts entirely dedicated to his music were organised in Warsaw (from 1883 to 1900), Kraków and Lwów (present-day Lviv in the Republic of Ukraine). Some of his compositions are still regularly performed in concert halls.
Source: www.culture.pl, Małgorzata Kosińska, Polish Music Information Center, Polish Composers' Union, March 2002.